How to Use VOV
There are many things to see and do on the site and you can begin wherever you want.

Get Informed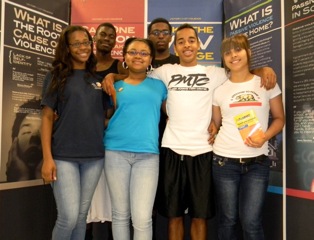 We recommend that you begin by first learning more about VOV Issues. Then, check out the VOV Blog and Stories section to learn how others are taking action to achieve victory over violence within themselves, in their relationships, in their local communities and within society as a whole. You can also take a look at the VOV traveling exhibition. This six-panel display has been shown at schools and community events around the world to raise awareness of the VOV movement.

Share Your Story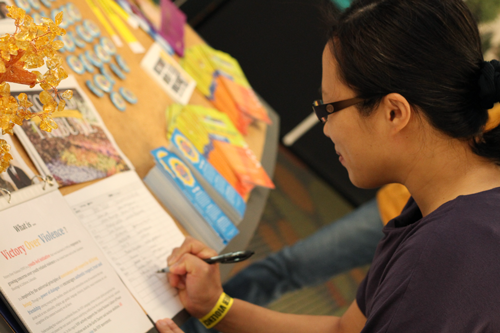 Register as a VOV Ambassador to share a personal story about (1) overcoming violence or (2) engaging in dialogue or action for peace. VOV.com provides each ambassador with a personal portfolio page where you can post your stories. As an ambassador, all of your experiences, actions and dialogues for peace and nonviolence are chronicled. You can post as many stories as you want. Each accomplishment you post adds another chapter to the story of your personal peace movement. But posting your stories to VOV.com is not just an online record of your personal journey, it's also a catalyst to help others grow. It will encourage the people who read them to begin sharing their stories as well. As this collection of life experiences, dialogues, and actions grows and blossoms, so does the culture of peace.
Here are some simple story ideas to help you get started:
Overcoming Violence
Have you ever been bullied? How did it make you feel? How have you encouraged others that have been bullied?

Has overcoming violence in your past made you a stronger person? How so?

Have you committed passive violence against yourself (low self-esteem, self-sabotage, etc.)? How did you win over it? What advice would you give to others?

Have you ever been stereotyped? How did that make you feel? Has the experience changed the way you view others?
Dialogue and Action for Peace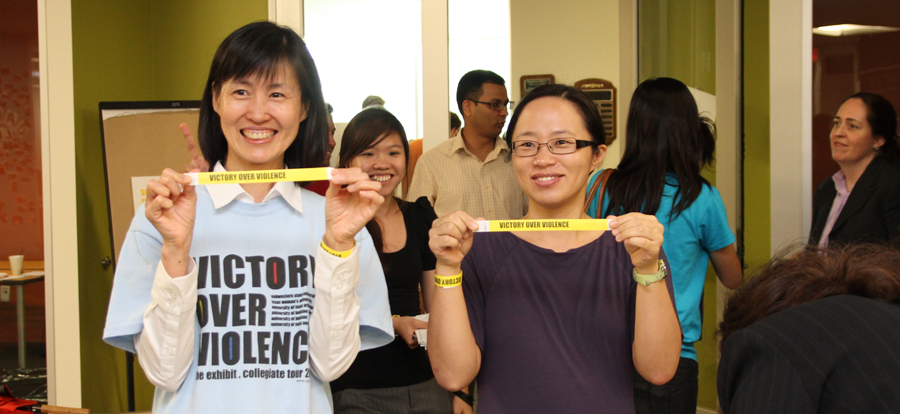 Do you forget to smile and say hello to people during your day? Why not make a conscious effort to do it more and see what happens?

Do the people at your school or workplace sit in separate groups at lunch? Why not mix it up and sit with somebody new?

Do you have neighbors that have never met each other? Why not host a dinner to bring everyone together?

Go through one of the VOV activities with your friends, family, or classmates.

Some other simple ways to put VOV into action include volunteering with a peace organization in your community or writing a letter expressing why victory over violence is important and submitting it to your local newspaper or favorite blog.
Submitting your stories for posting on VOV.com will encourage others to stand up and share as well.

Sign the Pledge

The quickest action you can take to officially join the VOV campaign is signing the VOV Pledge for Nonviolence. Signing the VOV Pledge will add your voice to a community of concerned global citizens who are committed to building the culture of peace.

Show the VOV Exhibition

Schedule a showing of the VOV traveling exhibition for your school or upcoming community event. To do this, first submit a proposal to VOV.com explaining the "who, what, where, when, and why" of the event. A member of the VOV.com support staff will review your proposal and get back to you as soon as possible.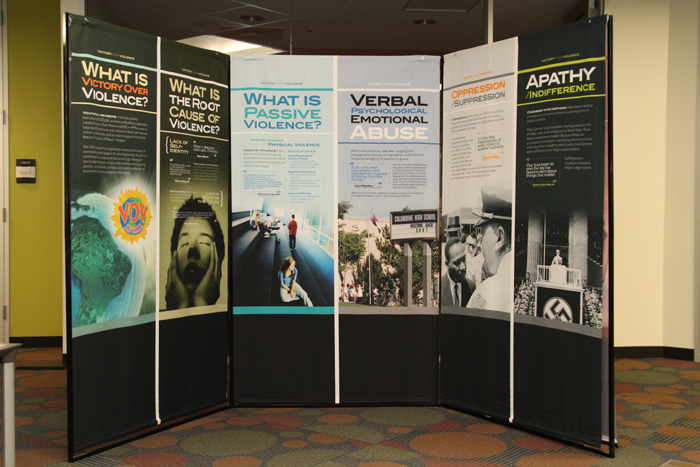 So what are you waiting for? Start exploring and launch your personal peace movement today!